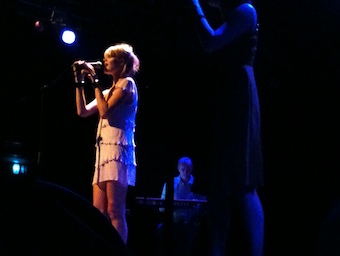 Last night was magical.
We were teleported to Les Docks in Nouvelle Vague in concert.
It was my first time at Les Docks and I found the place very friendly and well laid out. The tickets as well as the bar prices are reasonable and there are lots of smiles and good vibes radiating. The kind you find in places where people enjoy what they do.
The concert hall is well setup and nicely sized to preserve this kind of delicate intimacy that can exist between the performer and his public. This sorely lacked at EmilíƒÂ¬ana Torrini's concert at the BFM earlier this month. Don't get me wrong: I love the BFM and I loved the concert. The two weren't meant for each other that all.
Anyway, back to last night. Before MíƒÂ©lanie Pain's supporting act, I grabbed a beer and went in the front of the stage and watched the public slowly trickling in, trying to tweet and registering once again how fast time goes by. Most of the public attending must have had half my age. I don't mind that at all, on the contrary, but it's just that I feel more and more like if I was on a train running faster and faster towards its destination.
MíƒÂ©lanie Pain came on stage with Paul at the keyboards and guitar. Her voice was immediately familiar from having listened to Nouvelle Vague's latest albums. She played most of her first album's content with talent and humour, despite a sore throat. She set the vibes nicely for what was to follow.
Nouvelle Vague then filled the room with their remix of The Police's í¢â'¬Å"So Lonelyí¢â'¬Â and I fell under their spell. I love live performances, especially in settings such as those where the artists are less than a meter away and giving all they've got.
Nadeah Miranda and Marina Celeste's (I think it was her - please confirm?) performance was huge. Acting as opposites as well as mirrors, they lead us vocally and visually throughout the night. Up peaks and down dark alleys, their voices wrapped us up or stabbed us, but never left us unmoved. MíƒÂ©lanie Pain joined the gig half way through and completed the set perfectly.
Marc Collin (bass) and Olivier Libaux (guitar) were prodigious in their tunes and in the way they rythmed the different sets, lighting up the path for the singers to follow. Drums were amazing, but I must admit all the eyes were on the singers, especially Nadeah which delivered a phenomenal performance. Half way between Nina Hagen and Brigtte Bardot but with so much more and her own personal style, she brought Nouvelle Vague's songs to life.
<ego>Not to mention we came in close contact when she chose me to step down from the stage, leaning on my shoulders and sliding through my arms to later dance through the hall. Waow.</ego>
The evening was magical thanks to the way Nouvelle Vague shared their love and passion with us. Don't miss them if they come near you.
The only downside I can think of would be the public and its shyness. I didn't feel it expressed much, and I wonder what the band got out of it. Not much probably, but I might be wrong.
I have noticed this at EmilíƒÂ¬ana Torrini's concert where the people sitting in front would have been those standing behind if there wouldn't have been any seats. Quiet. Yesterday wasn't that quiet, but I expected more smiles, sweat and shouts. Maybe I'm the one getting it wrong.
Running down the streets of Lausanne, we barely managed to catch the last train home, a large smile painted over our faces, that much richer of a magical evening.
Currently playing in iTunes: So Lonely by Nouvelle Vague