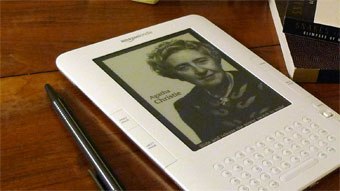 I received my International Kindle last Wednesday, and have been playing around with it since. As we've set the clock back an hour today, I'll take the opportunity to post my 2í'¢ worth of initial Kindle thoughts and how such a US centric product works in Switzerland.
The packaging is small, sweet and simple. Rip the í¢â'¬Å"Once upon a timeí¢â'¬Â¦í¢â'¬Â and you are presented with the Kindle displaying on screen the steps to follow to set it up.
My first disappointment was that it ships with a US power adapter. You can use the USB cable provided to charge it from a USB port of your computer if you don't have an USB-power adapter.
Slide the power switch, and it initialises in less than a minute. I was then greeted by a personalised letter in my name and the User Guide outlining the basic features and commands. My Kindle was already personalised and registered. Sweet.
Usage
Its usage is strait forward for anyone use to computer interfaces. The main navigation buttons are clearly visible on either side, as well as the menu access controls and joystick. Connecting to the Kindle Store or reviewing my settings was a breeze.
The screen is amazing. Very crisp and clear and easy to read. Since there is no backlight, it requires an external source of light depending where you are, but it doesn't tire your eyes. At first, I was tempted to interact directly with the screen, especially for scrolling and selecting - a side effect of having an iPhone I guess.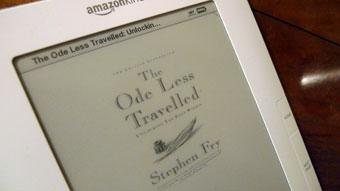 Once you find your way of holding it and turning the pages, you are left with a very smooth reading experience. The controls don't get into your way are are never far if you require them. The page turning effect could be better, but you get used to it.
While you read, you can change the character size, add bookmarks, take notes and make clippings fairly easily. The little joystick can be cumbersome to navigate in a page and select content to mark up, especially if you are use to an iPhone like experience, but I suppose you get use to that too. After all, this is supposed to be more of a reading device than a note taking device.
Whisper
The Kindle really starts to shine when you get online via the Whispernet services, either on the Kindle Store to download books, newspapers or magazines, or by sending yourself documents to your private e-mail address. I may also mention that zero setup is required to connect to your 3G/EDGE network.
You need to spend a few minutes in a browser managing your Kindle account first, to setup the list of approved e-mails that can send content to your Kindle, and to setup the default 1-click payment method. Yes, Kindle transactions are completed with 1-Click only.
The Kindle formatted books look great and are easy to read and navigate. As for your own content, your milage my vary depending on the layout and complexity of the document you are trying to read. But overall, the quality is acceptable to good.
Be aware that there is a fee to send documents to your Kindle via Whispernet: $0.99/Mb. This can be circumvented by sending your documents to a special e-mail address to be converted that will then be e-mailed to your computer for you to transfer them via USB.
í¢â'¬Å"If you would like to transfer your personal documents to your Kindle for free, you can send attachments to "name"@free.kindle.com to be converted and e-mailed to your computer at the e-mail address associated with your Amazon.com account log-in. You can then transfer the document to your Kindle using your USB connection.í¢â'¬Â
Wireless delivery is fast. I must admit it is fun to explore new books by downloading their first chapter, and it wasn't long before I stated buying my first Kindle books.
My first was í¢â'¬Å"JavaScript: The Good Partsí¢â'¬Â by Douglas Crockford, followed shortly by Stephen Fry's í¢â'¬Å"The Ode Less Travelled: Unlocking the Poet Withiní¢â'¬Â.
Thursday evening, I downloaded Friday's edition of í¢â'¬Å"Le Mondeí¢â'¬Â which was my first Kindle newspaper edition. I must admit that reading the paper this way suits me down to the ground. You can zero in on articles by theme, check the number of words per article (useful as you don't have any visual clue of the length of the article), or clip an article for later reference.
If your content is in English, you have the ability to look up words just by pushing a button - or almost. You do need to navigate to the word and click the joystick button. Nevertheless, it's a nice feature.
Audible
My next attempt was to try out audio content. Namely Audible books. It was a piece of cake to transfer the file to the Kindle: I hooked up my Kindle to my Mac and it showed up as an external drive. At the root level is a folder called 'Audible'. Just drag and copy your files there, they will automatically show up on the Kindle's home screen.
Selecting an audiobook switches to a page with the book's cover and description, with the audio controls down the bottom of the screen. All you have to do is to plug in your headphones and click play. So I thought.
The nag is that the device needs to be activated by Audible, which the Kindle automatically offers to do. Enter your Audible login information, and wait until your device gets activated. Which never happened with meí¢â'¬Â¦ after 5 minutes this process times out with an error message.
Until now, I haven't been able to figure out how to activate my Kindle with Audible. Whatever book, location or time of day I try, the process times out with an error message saying that my device can't be activated now. I posted a support ticket with Amazon regarding this issue and spoke 40 minute with Seattle, but haven't received a pertinent answer yet. í¢â'¬Å"Contact Audible supportí¢â'¬Â was their last suggestion.
This probably has to do with the web browsing restrictions international Kindles are subject to in certain countries.
If you load the text based browser located in the 'Experimental' submenu and enter an URL, you'll be informed that í¢â'¬Å"Due to local restrictions, web browsing is not available for all countriesí¢â'¬Â. Duh!
I suspect that the Kindle activation runs through the web one way or another, and that those í¢â'¬Å"local restrictionsí¢â'¬Â are preventing me from reaching the activation server. This remains to be confirmed though. I'll be in London next week, and I'll give it a try.
28 Oct update: Audible's support page confirms that the activation is done over Whispernet, and hence won't work is web browsing restrictions are active.
Beginning with the Kindle 2 model, Amazon included wireless access from the device. This service, called Whispernet, is at no cost to the user and it is currently available in the US. This feature allows Audible customers that have either of the compatible Kindle models to wirelessly activate their Audible account. This is convenient for those customers that do not have access to a Windows computer and that usually download using a Mac. Below find the instructions as to how to activate Audible content from the Kindle wirelessly. [Orig: Are the Kindle/Kindle2/KindleDX Compatible with Audible?]
Currently, the only solution for international Macintosh users with web browsing restrictions is to use the Window's Audible Manager to activate the Kindle. Activate your account and transfer a file to the Kindle and files transferred later via the Finder seem to work. This is a poor workaround, but at least you don't have to use Windows each time you add Audible content to your Kindle.
Other than that, I am curious to see how the home screen content will evolve has each title is listed under the next. You can sort by name or date, but you have little options to create sub categories or folders. An archive folder is present, but I'm not sure how this one functions.
Overall, I'm really happy with this new device and looking forward to the paper weight it will save me carrying around.
í¢Ëœ…í¢Ëœ…í¢Ëœ…í¢Ëœ…í¢Ëœâ€ 
Tech specs
6í¢â'¬Â³ monitor with a resolution of 600íƒâ€"800px @167dpi
16 shades of gray with E-Ink technology
2Go of internal storage (a.k.a. 1500 books)
3.5mm output jack, a USB port, two speakers
Text-to-speech and WhisperSync functionalities
Compatible with Kindle (AZW), TXT, Audible (formats 4, Audible Enhanced (AAX)), MP3, unprotected MOBI, PRC, PDF, HTML, DOC, JPEG, GIF, PNG, BMP
Battery lasts up to 4 days (3G/EDGE on) or 2 weeks (3G/EDGE off)
Size 203.2 íƒâ€" 134.6 íƒâ€" 9.1mm for a weight of 289g