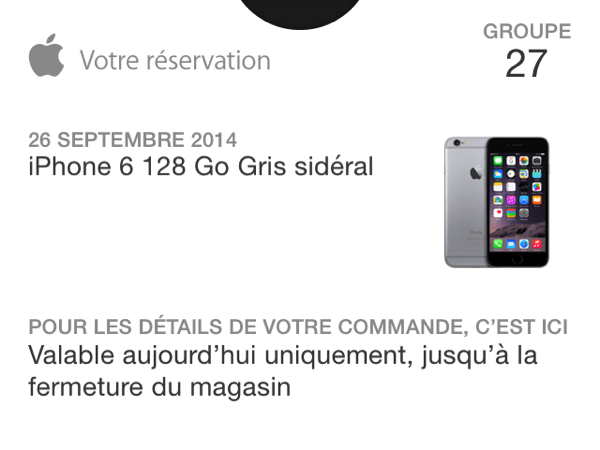 , Apple launched in Switzerland the latest revision of its smartphones, the iPhone 6/6 Plus. Although I had no intention of standing in line, I did drop by our local Apple Store mid-afternoon to take a look at the new phones and see what the atmosphere was like.
True to the tradition, many people had gathered for the occasion, some as early as 6pm the previous evening. Chatting with an Apple employee, and to my surprise, all models in all configurations were still available, which triggered me to join the line and get my new phone. Hey, why not? It was 3pm and the line wasn't that long anymore. Moreover, I've enjoyed standing in line at previous occasions, and always like that sense of community that prevailed. Somewhat of a cultural thing. An adventure. It makes no senseí¢â'¬Â¦
Well, times they are changing. The line was mostly occupied by either scalpers on their 10th round, trying to jump the queue, and slide through to the front of the queue as fast as possible. «Hey, it's businessí¢â'¬Â smiles back a young guy when I make him notice that there was a line and that it might not be that cool to continuously try to slip in frontí¢â'¬Â¦
The other people around me were in dark suits with trimmed haircuts and grave looks, or hiding behind flashy makeup and fashion sunglasses.
When the Apple employee asks them which iPhone model they intend to purchase, most of them are ignorant of the available options, and end up by ordering the «biggest, and most expensiveí¢â'¬Â.
Apple got that right : «Bigger than biggerí¢â'¬Â.
I wonder how many of them knows where Apple comes from, and how many care for that matter. Maybe it's just me, refusing to see how things change. As @Ihnatko said last week :
«You should be able to answer to three key questions on Apple's history to have the right to stand in lineí¢â'¬Â
Andy Inhatko
Less that 45 minutes later, I sure walked out of the Store with a new shiny iPhone, but with a sense of loss. Wild consumerism has replaced that feeling of belonging to a community. That community. This was probably the last time I'll stand in line in front of an Apple Store.
Which leads me to think that Apple has golden days in front of it when it'll start selling multi-thousand dollars gold Apple Watches every yearí¢â'¬Â¦ there's a market for that.