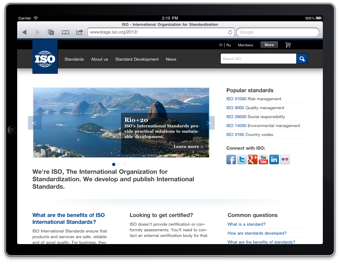 It's a big day: the ISO (the International Organization for Standardization) have officially relaunched their website based on the redesign Andy Clarke and I worked on last autumn and early this year.
It was a fantastic adventure. First, to be approached by Nicolas Fleury, whom I met at the 2010 Lift Conference, and then to have Andy Clarke agree to take this task up with me.
I met Andy at the first edition of the @media conference, back in 2005, and I have an immense respect for his vision and his talent. For me, he is without contest among the best and most inspiring web designers of our times. I previously had the pleasure of working with Andy on the redesign of the Xstrata Plc website in 2009 and was really excited (and a bit worried I must confess) by this new challenge.
Andy talks more about the way we approached the task in a blog post «Say hello to the new ISOí¢â'¬Â and ISO published a joint interview in the Nov-Dec edition of their ISO Focus+ Magazine.
Amazing
The project was amazing from several perspectives. First, the sheer scope of it was daunting. I never managed to have a spider count the number of individual pages, it always crashed before. ISO estimate it to be close to 40'000 and the site is published in English, French and Russian just to make things simpler. The website gets hit by over a million and a half unique visitors a month from all over the world. Their core audiences are varied, as much in their goals and expertise, as in the technologies used to browse the site. Old browsers still prevail significantly.
Nicolas told us to feel free to design whatever we thought appropriate to serve their purpose, and the redesign process led not only to a fantastic set of responsive templates, but to a complete rewrite of the content itself (in three languages). The tone of voice and phrasing were successfully revisited. This process led to the creation of a new position in the WIS team: a content strategist was taken aboard.
The redesign/WIS team was very motivated and commited from day one to learn new techniques and design processes. They worked their socks off all Spring to relaunch this website. They did an amazing job, and I am very proud to have had the opportunity to work alongside them and Andy.
Thanks
Thank you Nicolas for your trust, thank you Andy for your inspiring talent and vision and a big thanks to all the WIS team for your commitment and motivation. You're the best.