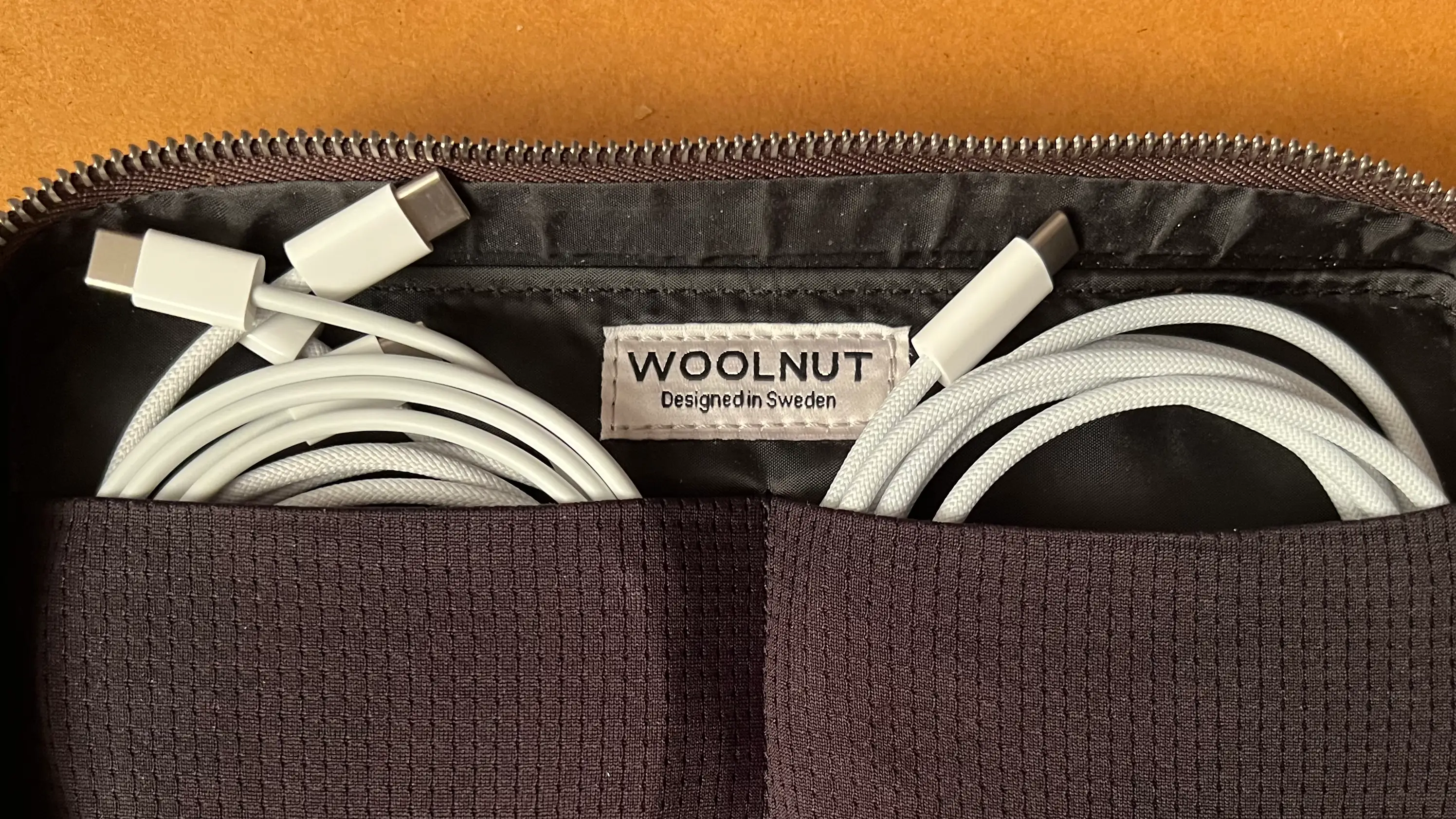 These last years, I've been trying to shift my freelance work from single one-off projects, to mid to long-term collaborations where I feel I can make a difference and add value.
As a consequence, I've been spending increasingly more time on my client's premises, which prompted me to adapt my mobile setup.
I usually carry my iPad Pro with a Smart Keyboard Folio when I'm on the road. It fulfils most of my mobile needs, and it's lighter and smaller than a MacBook Pro.
As long as my presence only entailed workshops or meetings, I never bothered to pack a charger, as my battery lasted all day. But working longer spans of time in open space offices connected to large monitors, I missed my mouse and keyboard setup.
So, I came up with an optimised set of accessories to address this situation. This set is different from my travel set, and targeted specifically towards an office work situation around my MacBook Pro 14".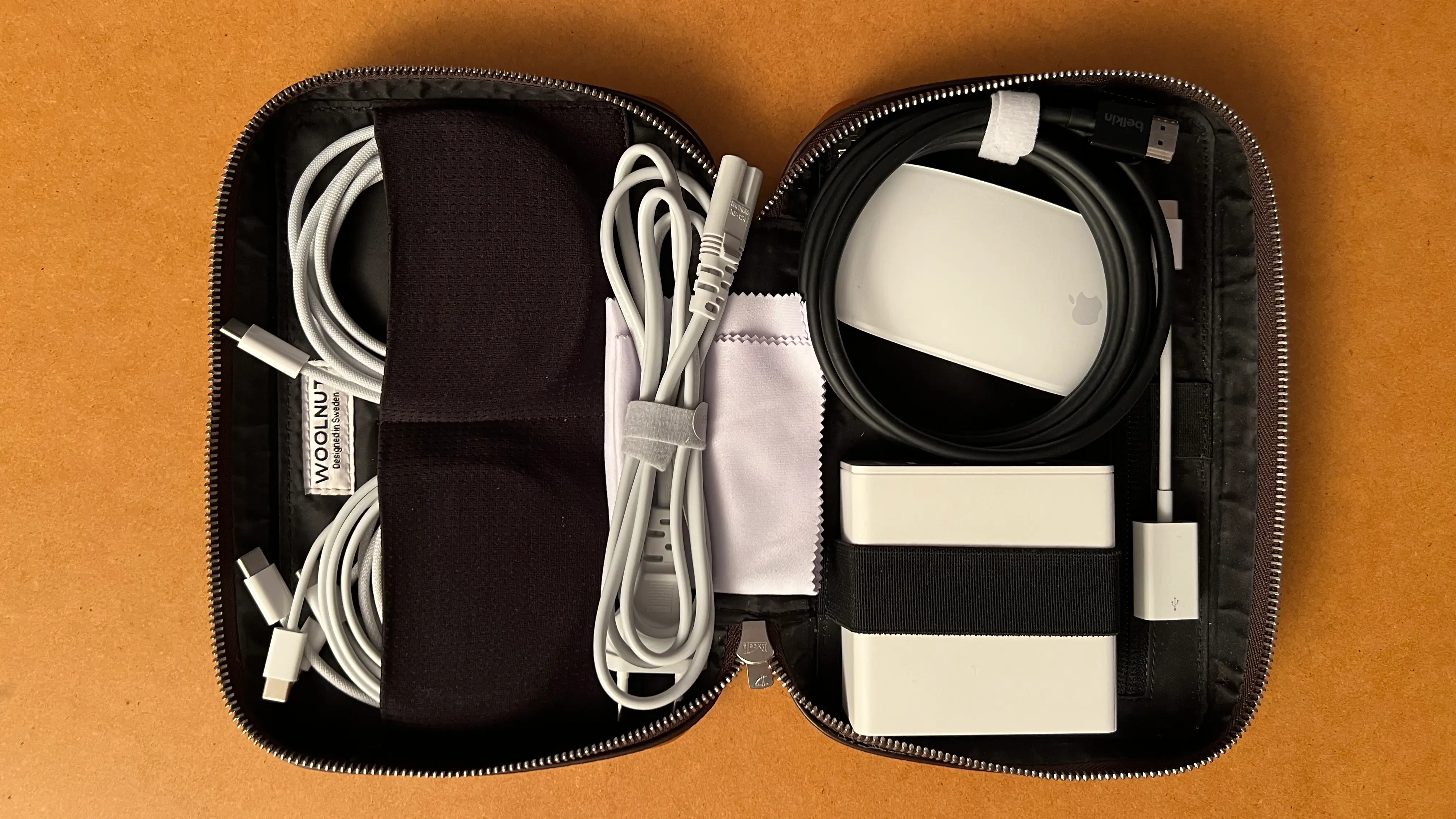 Input devices
Apple Magic Mouse. I am a mouse kind of guy, what can I say…
Apple Magic Keyboard with Touch ID. I feels weird to hook up to an external monitor and use your laptop's keyboard. I would prefer the numeric keypad version, but it's too long to fit in my backpack.
Power
This charging brick is roughly the same size as Apple's 96W (7mm thicker), but 20% heavier. It offers 120W of total power with three USB-C PD ports and one USB-A port charging up to four devices.
Cables and adapters
Apple USB-C to MagSafe 3 cable. I could leave this one out, but having two USB-C charge cables has came in handy.
Apple USB-C to Lightening cable
Apple USB-C Charge cable
Apple USB-C to USB adapter because you just never know when you'll need one.
Belkin HDMI cable to connect to the offices monitors. Their in-house solution requires you to install some kind of driver to use the USB-C connector box. I'd rather not.
Case
Woolnut Leather Tech Organizer. I discovered this case while shopping around for AirPod Max cases. Woolnut is a Swedish company that focuses on creating premium leather products for Apple gear.
The pouch is made out of high quality leather that has a lovely pebbled texture and touch. The zipper feel (and works) great and the case offers ample space, multiple straps and pockets to organise your gear. The only downside might be the inner zipped pocket which I find too tight to fit anything that isn't completely flat.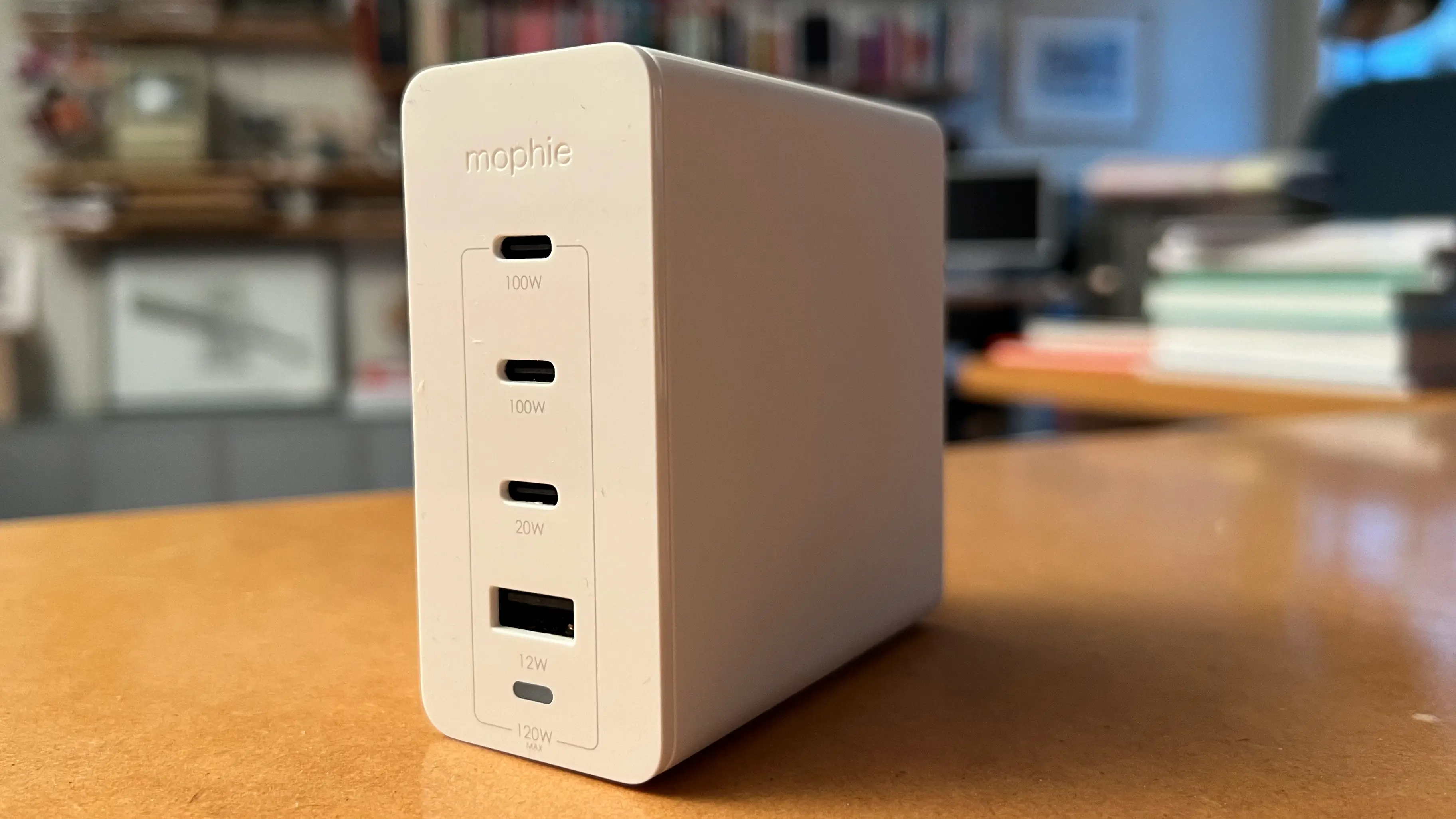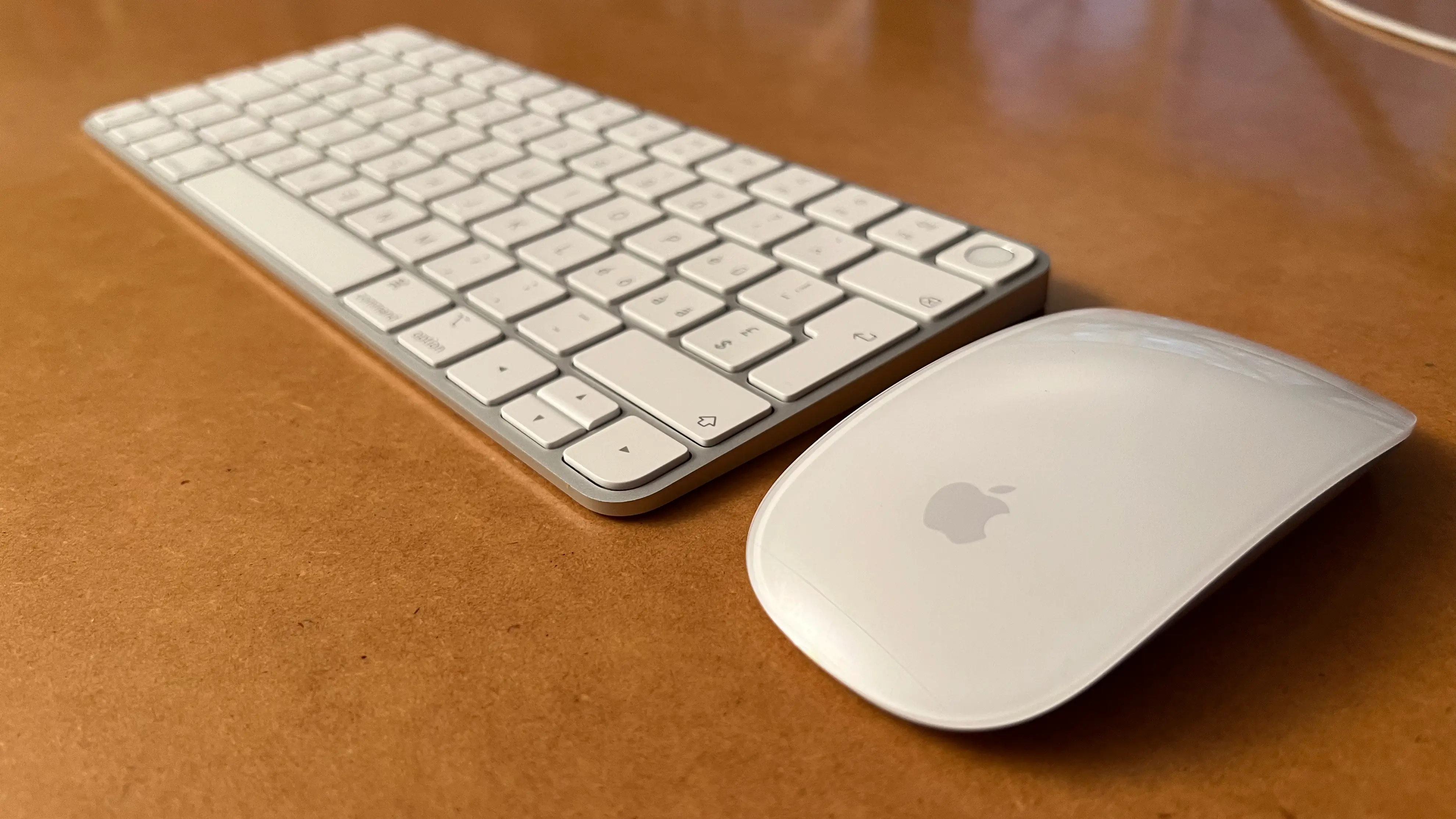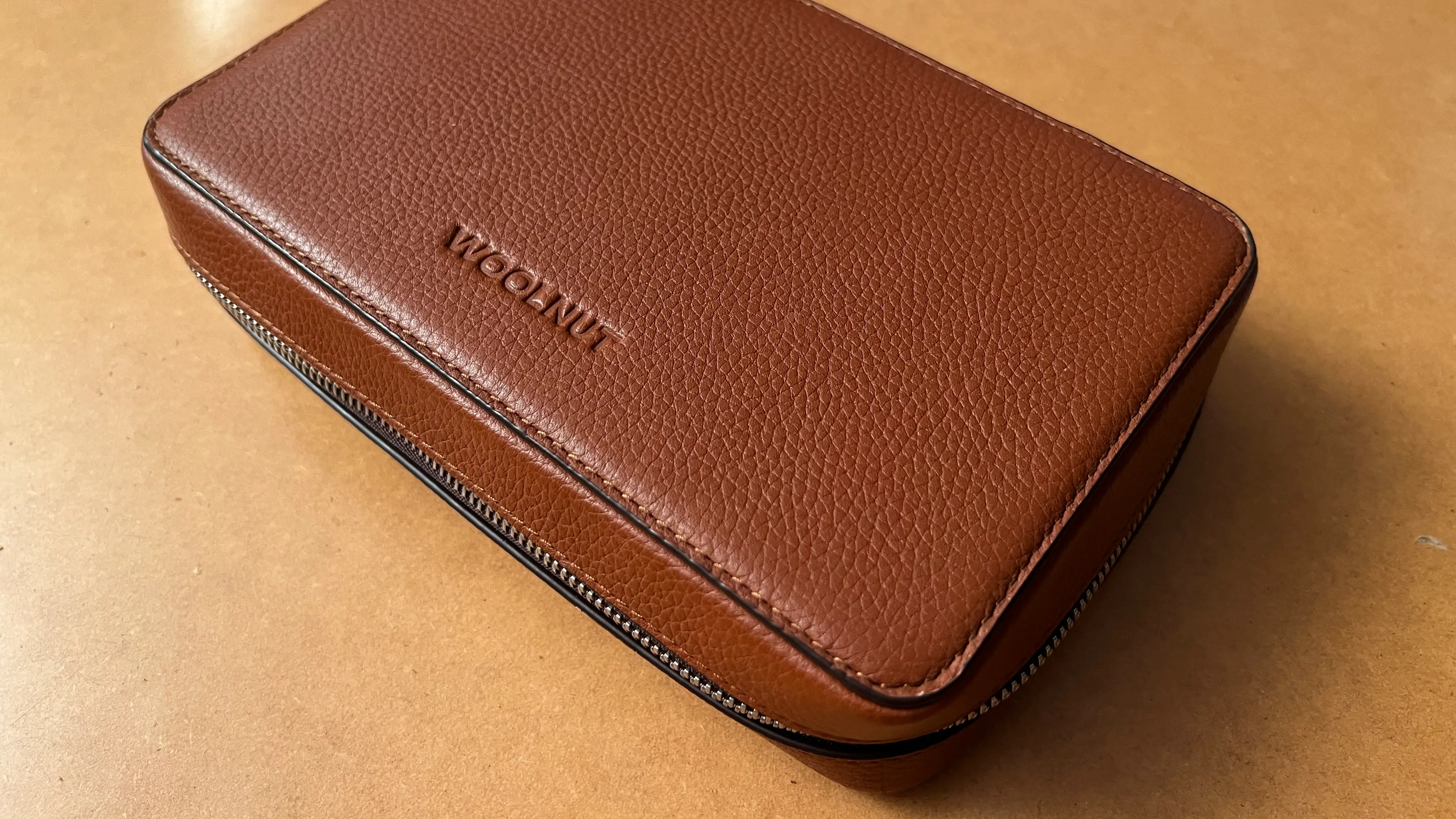 All this comes at a price: its weight. The case, keyboard and MacBook Pro amount to a total of 2.8 Kg. Add a notebook, pens, etc. and you have quite a bag to lug around, but the working experience is worth it.