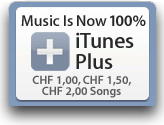 The iTunes Store introduced variable pricing and states it is 100% DRM free since last Tuesday. Maybe. Maybe not.
I have regularly updated my iTS purchases to the 256kbps ACC/DRM free versions as they became available, so I naturally assumed that I was one upgrade away from having a 100% DRM free iTunes Library.
I selected to upgrade the few albums and tracks that iTunes suggested, and ran a search by curiosity to find any remaining .m4p files on my hard drive. I was hoping to find close to none.
Surprisingly, I still have over 200 tracks which are in .m4p format, some of which are iTunes Exclusive (EP). I checked the iTS to see if those tracks/albums were still available or not, and unsurprisingly, they were not. When they were, they appeared under that weird iTunes 'partial album' denomination, with missing songs (often the bonus track was missing).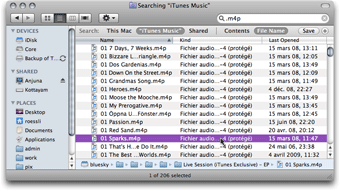 Among the missing albums were some purchased a day or two ago. Among those still in .m4p format I found,
Billy Cobham | Heroes
Sophie Hunger | Monday's Ghost
Lamb | What Sound
Nightmares on Wax | In a Space Outta Sound
Aloan | We Play
Albert Hammond Jr. | Yours to Keep
Ane Brun | Spending Time with Morgan
Archie Sheep & NHí˜P | Looking at Bird
dEUS | 7 Days, 7 Weeks
Jay-Jay Johanson | The Long Term Physical Effects…
Lisa Ekdhal
Massive Attack | Unleashed
Nina Simone | Little Girl Blue
Nouvelle Vague | Bande í  Part
Pat Metheny Group | The Way Up
Queen | The Platinum Collection
South | Live Sessions
Thelonious Monk | Monk, Alone in Paris
Victoria Tolstoy | My Sweedish Heart
Wynton Marsalis | Live Session (iTunes Exclusive)
Us3 | Schizophonic
I wonder what this means? Did Apple fail to upgrade all the tracks and pulled out those they couldn't? Or did they have some kind of deadline they didn't manage to meet, and the missing tracks will silently trickle back in?
TidBITS Talk users report that the switch isn't complete possibly because Apple couldn't acquire resale rights for DRM-free versions or simply because the tracks ae not yet available in iTunes Plus format.