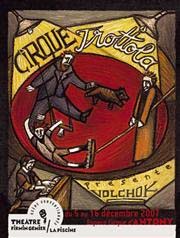 Last night I lived one of those magical moments life is punctuated with.
We walked down the road to the place Audéoud, at Chíªne-Bougeries, to take part of the Festival des 20 ans du Théí¢tre-Cirqule. Three circus tents, a friendly bar tent and scores of little caravans take up the green parish green. The atmosphere is set by stripes of little coloured bulbs hanging from one pole to another.
We headed for the oval red tent where Trottola was performing «Volchok» that evening. Stalls where located on either side of the stage with two distinct entries. Immediately, an intimate feeling grew to wrap you up.
The show was composed of three artists, comedians, equilibrists, clowns, acrobats, humans. All at once. Not only do they perform their act, but lead you from one act to another, creating and developing their personas as they go on. Wordless musical storytellers, they slowly build a magical world and suck you in with them.
The live soundtrack is upheld by two instrumentalists that make use of everything and anything to colour the sound dimension to the rhythm of the action.
The trio exploit their physical differences and talents to the extreme throughout the show. Titoune, a slim and slender young women flies through the airs, defying gravity and the boundaries of the tent. Bonaventure Gacon, her large beardy companion lifts and stumbles, climbs and carries everything and everyone. Mads Rosenbeck, the fine art juggler, questions most of the laws of physics by dancing with a dress on the end of his broom (magical!), stopping an ever falling plate, pushing around a chair steady on two feet.. amazing.
This is not the circus you grew up to know. It is of a new kind. The kind that goes to the essentials. No strass or shiny costumes. Things are crude here. Dusty. Natural. Exciting.
A evening I am not ready to forget. Enchanted, it lifts us into a new dimension. More natural, more human.
You leave lightheaded and dizzy with pleasure. Eyes sparkling, with a wide smile spread accross the face.
I want more.
Festival de cirque du Théí¢tre Cirqule
Place Audéoud
Chíªne-Bougeries
Booking and info 079 305 28 41
Check out Trottla's Tour dates.