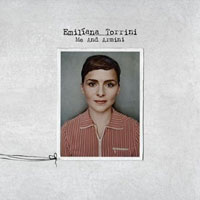 I made this happy discovery while couch-browsing the iTunes Store the other evening: Emilíana Torrini's new album Me and Armini.
Emilíana Torrini is half-Icelandic, half-Italian, lives in living in Brighton, UK, and has already published a number of albums since 1994, but it was my first encounter with the artist.
The album cover art first attracted my attention. The gentle acoustic mood of the album suited the moment down to the ground. There are surprises to be found behind every track. It's both poetically evocative and uncomplicated, Emilíana's voice voice twists and turns, or is ruggered or sticky by moments (e.g. checkout 'Gun').
It evokes me styles that span from Lily Allen rythms to jazz tunes, warm and carved out of her own personal space. In that sense it is not an immediate album, but creeps slowly into your mind, giving up its secrets and opening doors to imperceptible sensory experiences.
You'll find more info on Emilíana Torrini at,
Enjoy.