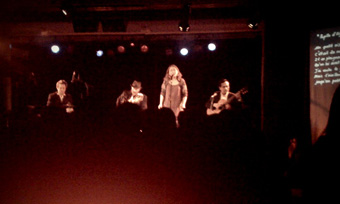 I discovered Violeta Parra, a Chilean poet and visual artist, through an remarkable performance of Michí¨le Millner together with Yves Cerf, Paco Chambi and Sylvain Fournier last might at the AMR.
Michí¨le Millner interprets Violeta Parra with her heart and soul, in a rich and warm voice that conveys the happiness or sorrow, the opposition, rage, love and despair that made up Violeta Parra's life, part of which was spent in Geneva around 1963. Paco Chambi was awesome at the guitar, and so were Yves Cerf and Sylvain Fournier for that matter.
Throughout the show the lyrics were translated into French on slides projected to the right side of the stage, with black and white photos and short videos clips of interviews of Violeta Parra.
It was an intimate performance, not unlike those that usually take place at the Sud des Alpes, but with a different tint. Its south american latin touch gave it I don't know what that gave it that texture, depth and vibration I have already felt in different latin american events.
The public was diverse, but with a definite latin accent. I really enjoyed discovering this poet, her life and work, her simplicity and richness. Her depth.
A tragic yet inspirational life, that drives me to explore and discover more of her writings, and makes me regret to have given up on the usage of the Spanish language years ago. I love latin american Spanish.
Gracias a la Vida que me ha dado tanto
me ha dado la risa y me ha dado el llanto,
asi yo distingo dicha de quebranto
los dos materiales que forman mi canto
y el canto de ustedes que es el mismo canto
y el canto de todos que es mi propio canto.

Gracias a la Vida
Listen and watch Michí¨le Millner sing Violeta Parra: