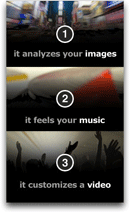 I have just discovered animoto, a different way of creating slideshows from local or online stored image files.
Basically, it's a nifty online Flash app that lets you create a free 30 seconds long slideshow video from your photos. What makes it really different from other similar services is that it tries to match the animation with the music you choose. Animoto automatically analyzes the music and photos that you choose, and orchestrates a custom video. The final movie has definitively more punch than what you get from standard slideshows.
It looks more like something out of the broadcasting world than something you would produce with the iLife suite. Short movies are free, but they are limited to 30 seconds, and you can't download them. On the other hand, you can post them to major blogging services or embed them in your own website very easily. You can also upgrade to DVD quality and have it mailed to you, or download the DVD image (.iso) for $5.
Their subscription service allows you to make an unlimited number of full length videos for $30/year. The features remain the same for both the short and full length videos. Each video can be remixed, text can be added, key frames (spotlight) are identified and given extra emphasis in the animation. Alternatively, you can upgrade a video to full length for a one time $3 fee via Google Checkout or PayPal.
Give it a try. It's fun.
The above video was generated from an online Flickr set Istanbul in October.