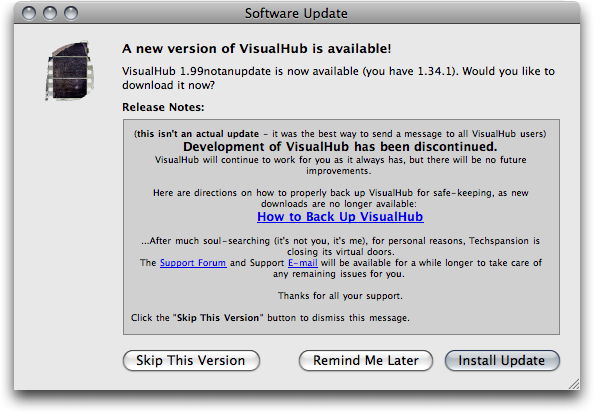 I first heard about Techspansion closing through lynxman's Twitter feed before reading the notice that is displayed when you launch the application.
...After much soul-searching (it's not you, it's me), for personal reasons, Techspansion is closing its virtual doors.

Tyler Loch
I loved this video converter application, and its little brother iSquint as well as AudialHub, the audio file converter.
It was a bit what GraphicConverter is to still images. Offering support for a large variety of video formats and was both easier to use for basic conversion while offering a greater number of advanced options for video geeks. A rare combination.
There is no real competition. FFMpegX does the same thing (uses the same underlying open-source code ffmpeg), but the GUIs just don't match up.
Hold on to and backup your copies of VisualHub and AudialHub.
Missing you already.
All software seems to have been removed from the server. For those wondering where they can still grab a copy, point your browsers at http://mactalk.cachefly.net/dump/VisualHub.dmg.