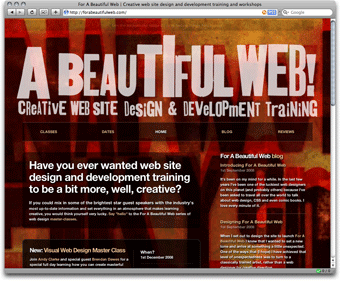 Yesterday, Andy Clarke launched For A Beautiful Web!, a site presenting a series of master classes and workshops on creative design and training for the web.
The initial master class "Visual Web Design Master Class For A Beautiful Web" is scheduled for December in London and focuses on how to discover new ideas and new ways of working.
The classes will be intimate as they are limited to 40 people. I must admit that I am very tempted by December's initial class, more so as I have only attended one conference this year. There is an early bird í'£70 discount for the first ten registrations for those who think fast.
You can preregister your interest for next year's classes, which main themes cover advanced css styling, microformats, accessibility and markup.
I'm looking forward to see how Andy will master these one day courses. The Carson Workshops he's given where a great success, both in the UK and in the US. Some of which were given twice. I am confident he's going to come up with new ways to inspire and enlighten those who are fortunate enough to attend these events.
I am fortunate enough to have followed Andy's talks at the yearly @media conferences ever since his first, back in 2005. He is an inspiring figure and always delivers a topnotch talk which boost you with a new drive to change and better the way you work, design or code. Passionate.
In addition to the website, you can follow this project on Twitter and through a dedicated Facebook group.
For those of who don't know Andy's work, go to his company website or checkout his excellent book "Transcending CSS".