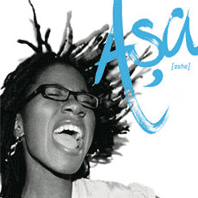 Here's music to start your week with: Asa's (pronounce Asha which means eagle in Nigerian) self named debut album. An album full bright colours, heights and perspective. Rythms that callback long gone memories of Jamaican evenings, rythm & blues, soul trips. She as an unique raspy voice, that wraps around you and radiates an amazing talent.
It reminded me of Ayo in some ways, both born in Europe, they share origins that stem back to Nigeria, which comes through in their music. An addictive mix of reggae, jazz and soul. In other ways, Asa reminds me of Tracy Chapman back in the late 80'ties with her simple melodies and affecting lyrics. At the time, there were only a handful of artists performing such a style successfully.
Discover Asa through her label Naí¯ve's website, and read more about her life and views in an interview she gave to Funmi Iyanda on New Dawn. You can also find her on MySpace.
For all of you living in Switzerland, go and enjoy her live at Les Docks at Lausanne.