Okay, this is a really geeky one to start the week with.. but I love it (you know me). Imagine using your Sony Ericssoncell phone to drive a Keynote presentation, remote control iTunes, DVD Player or any scriptable application on your Mac via Bluetooth..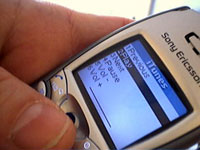 Maybe the coolest touch is the ability to setup the proximity sensor: choose an action to execute when you leave or reenter the Bluetooth radius. iTunes or DVD Player pauses, your Mac welcomes you back, locks your screen, etc. Beta version functional until March 1st.
Available through VersionTracker
(it wasn't available from the
developer's website
as yet).
2003-02-25 update
: here's the
Slashdot thread
and a soon to come
AppleScript section
on the product's website.