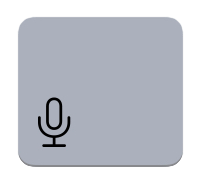 With Dictation on iPhone, you can dictate text anywhere you can type it. You can also use typing and Dictation together—the keyboard stays open during Dictation so you can easily switch between voice and touch to enter text. For example, you can select text with touch and replace it with your voice.
Cool, but if you're not running in silent mode, you will hear an obnoxious beep each time you tap the keyboard microphone. Personally, I'm constantly in silent mode, but that's not the case of everyone in my family.
Here is how you can lower its volume, or silence it all together:
Open a text field or new document and tap the keyboard microphone;
Before saying anything, lower the volume on your device.
This will only lower the volume for the dictation tone.
We're a happy family again.