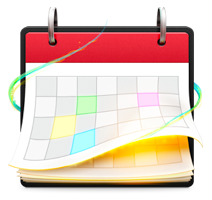 There's been a lot of talk about Fantastical recently, and rightly so because it is a fantastic (no pun intended) application. Check out MacWorld's in depth review and Flexibits for more information as I won't go over its features here.
I'll just mention that I am thrilled to retrieve along gone Newton Message Pad feature: the ability to type (in English) a conversational description of and event and have Fantastical parse your description and fill in the details accordingly. That rocks!
I have been running MenuCalendarClock for iCal until now and I am about to switch to Fantastical if it wasn't for the menubar icon placement.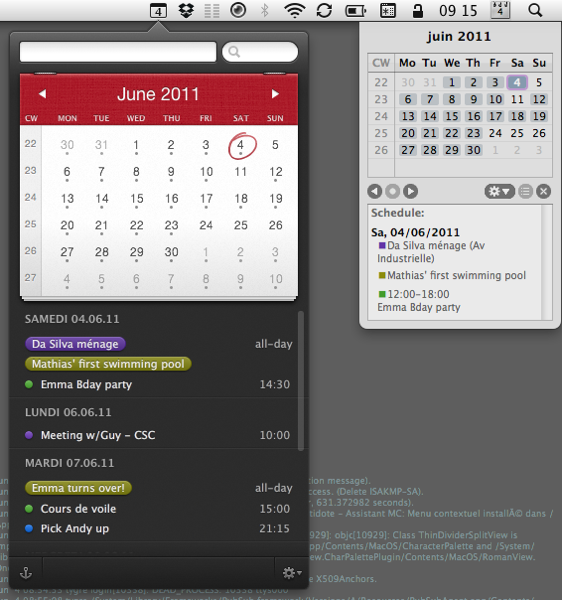 The menubar is a privileged spot that any applications try to sit on. IMHO most of them don't need to clutter that precious space, so I more than often uncheck the «Display menubar icon» preference. Except for a few, and a calendar app is one of them. In general, I try to keep the number of menubar icons to a minimum.
I don't know about you, but I am a bit picky on the order of the menubar icons, especially thoses on the right hand side. I like the time and date to be as close to th right edge as possible, a static position you can easily target at a glance. Unfortunately, I learned recently that third party applications icons (menulets) are not supposed to be cmd-draggable, and that they should not show up among the Apple apps. The ones that can, use a non-public interface to do so.

This is a shame, because calendar apps like Fantastical becomes a moving target, located somewhere on the left of the menubar among the other icons, which is less effective. You can kind of set the order by rearranging the login items order in the Accounts System Preference pane (cmd + drag to bottom), but there's no guarantee as startup items items load simultaneously.
This issue is fixed as from version 1.0.3 (thanks!) Download the Fantastical menu extra,double-click the menu extra, then hold the command key down and click and drag to move the menu extra into place.
I guess I'm becoming an old monomaniac git that should be able live with that (lol).