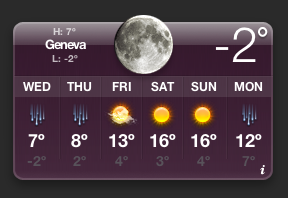 When an update makes you feel sick. This is what the latest Mac OS 10.5.2 update makes me want to do. It is a sad world when you start to loose trust in what use to be a flawless reliable tool. I have never experienced freezes like he ones I am experiencing since the latest update. I'm not talking of spinning beach balls or kernel panics, no. Simple down right down freeze. The computer just stops responding. Boom. No crash, no log entry, nothing. Zilch. Nada. You're just left out in the cold with the «Press the power button» option.
Well, this sucks. I haven't experienced this since the Mac OS 9 days, or the early 10.0 beta. After like 6 hours use, the computer suddenly stops responding. Randomly.
I first suspected a hardware problem as I upgraded to 3Gb of RAM the same day, but no. Reverting to my previous 2Gb didn't solve the problem. Lately, a number of people have been complaining of exactly the same issue in Apple's Disscusion board: MacBook Pro Freezes after successfull 10.5.2 update. A growing number of other posts in different categories or weblogsare starting to report this problem too.
It is also worth noting that these freezes occured after installing the Mac OS 10.5.2 update combo (after reparing permissions, etc.) but before installing the Leopard Graphic update. Downgrading to 10.5.1 would mean a complete reinstall. Hope not.
I tried an old trick that use to prove useful in the Mac OS 9 days: PRAM reset. In order to reset NVRAM/PRAM: Shutdown your Mac, then start it back up while immediately holding the following keys: Command, Option, P and R. Hold the keys down until the computer restarts and you hear the startup sound for the third time. I don't know if this will help in any way, but it is worth a try.
What is odd infuriating is that the Leopard Graphic update was supposed to fix this problem in machines suffering from this problem prior to the update, not spread it to machines which worked flawlessly.
It's early morning and cold outside. Lets not start the day grumpy and in a bad mood. Don't forget to smile.
I'm running a MacBook Pro 2.33Ghz C2D/3/160/10.5.2
Update: Zapping the PRAM/VRAM and reapplying the Leopard Graphic update seems to have fixed the problem for me. No freezes in the last 48hrs. Nevertheless, bug reports are still being posted.