VersionTracker sports a revamped user interface, with the detailed page completely reorganised.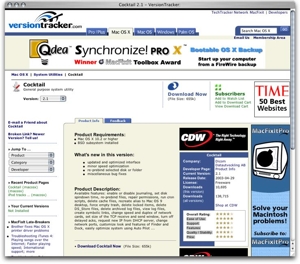 You can access previous versions of the software through a pop-up menu. The main content is organised in two tabbed layers: info and feedback (unavailable). The download link is clearly visible at the top of the section, under a global navigation bar. The overall rating can be decomposed in sub-categories (Ease of Use, Support, Features, Quality / Stability, Price). is The left hand sidebar lists a jump pad, a list of recently viewed pages (à la Amazon), your current installed version (if you use VT Desktop I guess) and a list of MacFixIt late-breakers.

The overall impression is that of a neater product, with more space to breathe. I could do without the ads on the right side, but at least they are all gathered there (except the banner at the top of the page). The line spacing could be tweaked a little, it feels a bit cramped to me.