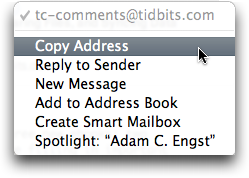 I stumbled on a welcoming Mail fix this morning which restores Leopard's (Mac OS 10.5) «Copy Address» behaviour.
In Snow Leopard (Mac OS 10.6), Mail's «Copy Address» contextual menu command copies the name and enclosed the address in angle brackets. As in «John Doe <[email protected]>», which turns out to be annoying as most of the time I have to edit the pasted text in order to remove the brakets and/or name.
Mac Daddy World (Ecamm Network developer blog) discovered a Mail preference setting which restores Mail 10.5 behaviour (copy only the address):
AddressesIncludeNameOnPasteboard
Quit Mail, and open Terminal (Application > Utilities) and type the following command (all on the same line):
defaults write com.apple.mail AddressesIncludeNameOnPasteboard -bool NO
and next time you use the «Copy Address» contextual menu command, it will only place the e-mail address on your clipboard. Bliss.
Thanks Ken, this fix is most welcome.